In a video special, the University of Warwick Crop Centre's Andrew Tock tells the story of plant clinics that help people produce more and lose less.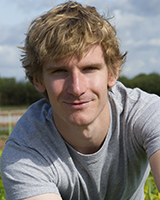 My feet had landed on African ground for the first time. Despite flying into Entebbe in the wee hours of a mid-January morning, it was really warm. Looking at the low, red-orange full moon, I couldn't stop smiling and felt a bit giddy. I had a feeling Uganda just had this effect on people.
My arrival marked the start of a three-month internship with the Centre for Agricultural Bioscience International (CABI). CABI is a UK-based non-profit organisation that helps resource-poor farmers in developing countries to increase yields by preventing crop losses to pests, diseases and environmental stresses.
It does this partly through the 'plant clinics' initiative, part of CABI's Plantwise programme of advisory and extension services. Operating since 2005 in Uganda, these mobile or community-based shelters are where 'plant doctors' provide diagnoses and treatment advice to farmers who visit with crop issues – "Any crop, any problem" is their ethos!
Broadly similar to agronomists, they play a role similar to that of GPs as the first point of contact in human healthcare service provision, but they deliver advice to farmers as a public service, rather than on a private, in-field basis.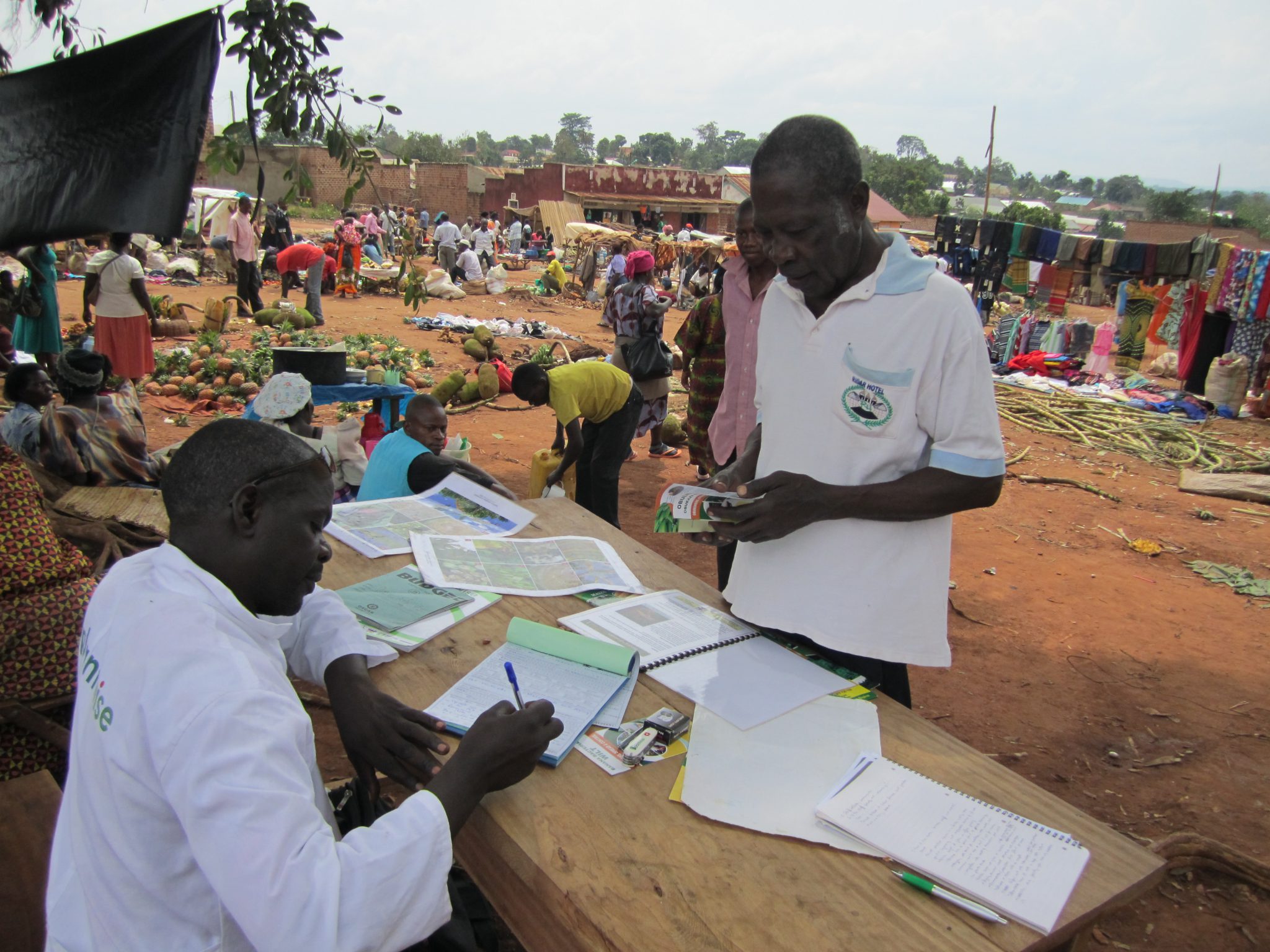 A 2012 study by the University of Copenhagen, Makerere University and CABI found that the clinics had a broad outreach, with 53 different crop types and clients from 20 districts received during the 2010-2011 study period.
Why was I there? My trip formed part of my PhD based at the University of Warwick Crop Centre, and funded by Global Food Security programme partner BBSRC. My role involved monitoring the performance of the clinics by assessing different aspects of their operations, such as the quality of diagnoses and advice, staff communication, organisation and record keeping.
Plant health clinics in beautiful Buikwe
A journey from the epic backdrop of Lake Victoria to the beautiful but remote rural countryside of undulating tea and banana plantations brought the importance of the clinics home to me – they fill the information gap.
As Luswata Kanakulya, plant doctor and clinic supervisor for Buikwe District in central Uganda, put it, "the plant clinics have a very big role to play in the agricultural set-up of this country. The plant clinics are very important in as far as plant health is concerned [because they enable] the diagnosis of plant diseases and pests so that farmers are enlightened of how to identify and diagnose plant health problems for better management of their crops."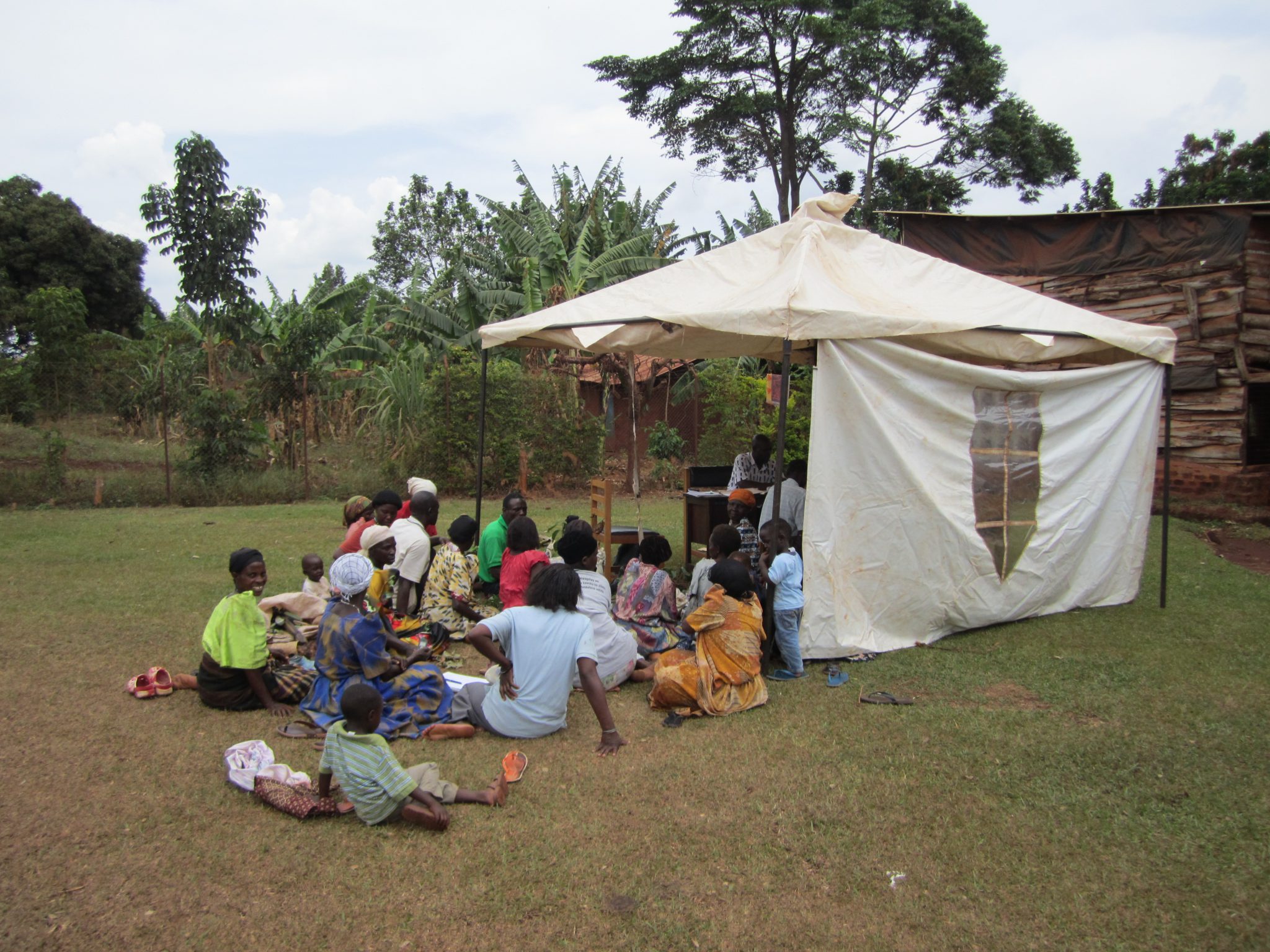 Some 25 clients gathered expectantly around the clinic tent at this special session in Kiyindi, which had been set up in a community leader's garden.  Testament to the impact of the clinics in Uganda, this session was held on an ad hoc basis at the request of farmers seeking crop protection and management advice ahead of the imminent rainy season.
The atmosphere was friendly and lively, permitting open and animated discussion of crop problems among most of the clients. Although I couldn't follow the conversations spoken in lyrical Luganda, it was clear that the rapt audience was as impressed by Luswata's masterful oratory as I was. He was brilliant at leading this more open discussion and advising the farmers authoritatively, while remaining receptive to input from others.
Do the plant clinics work?
I arrived in Uganda with some scepticism about the impact of the initiative. On the flight in, I had read a recent study reporting that more than half of all diagnoses given to farmers who visited clinics in Uganda were rejected for falling foul of a number of validation criteria.
Nonetheless, based on 'on-the-ground' observations made at the clinics, the authors also noted that the plant doctors are better at diagnosing than their analysis suggests, and that "part of the reason for low validity rates is poor record keeping."
During my clinic visits, however, it was clear that it wasn't always practical for plant doctors to keep detailed records. Many clients, for instance, opted to receive only oral advice given to groups of farmers with similar crop problems, rather than waiting to be seen by the plant doctor for an individual, 'official' (written) prescription. This more flexible 'clustering' approach to attending to clients was often appropriate because it meant that client waiting times could be reduced in the hot sun.
There was also a clear tension between the freedom that plant doctors had to build close rapport with farmers on the one hand, and the necessity to exercise good record keeping on the other.
The latter was often compromised because plant doctors tended to concentrate on delivering advice to clients orally. The adoption of this approach by plant doctors is perhaps in response to the reality that many farmers will not read prescription forms, and because staff recognise the importance of building relationships with clients based on mutual trust and confidence.
There is a risk that a requirement that plant doctors give more time and attention to completing prescription forms might stifle the popularity and community spirit of the clinics, to which these group discussions make a demonstrable contribution.
A partial solution could be to develop a corresponding photographic database of symptoms observed on crop samples brought to the clinics. This might provide a useful additional source of descriptive evidence to aid diagnosis validation.
Genuine progress, fake chemicals
While challenges remain, the plant doctors told me that the impact of the clinics is plain to see, with many farmers reporting increased yields and reduced crop losses after implementing advice received at the clinics.
"We have seen a very tremendous improvement", said Tumuhamye Abraham, plant doctor at Ntunda Market clinic in Mukono District. "By the time we started this plant clinic here, this place was heavily infected by the banana bacterial wilt, but because of our training and other organisations' training, we have contained the spread of banana bacterial wilt. Every plant clinic session in those days would receive about 30 complaints, but as you have seen today, we have received only two complaints of banana bacterial wilt."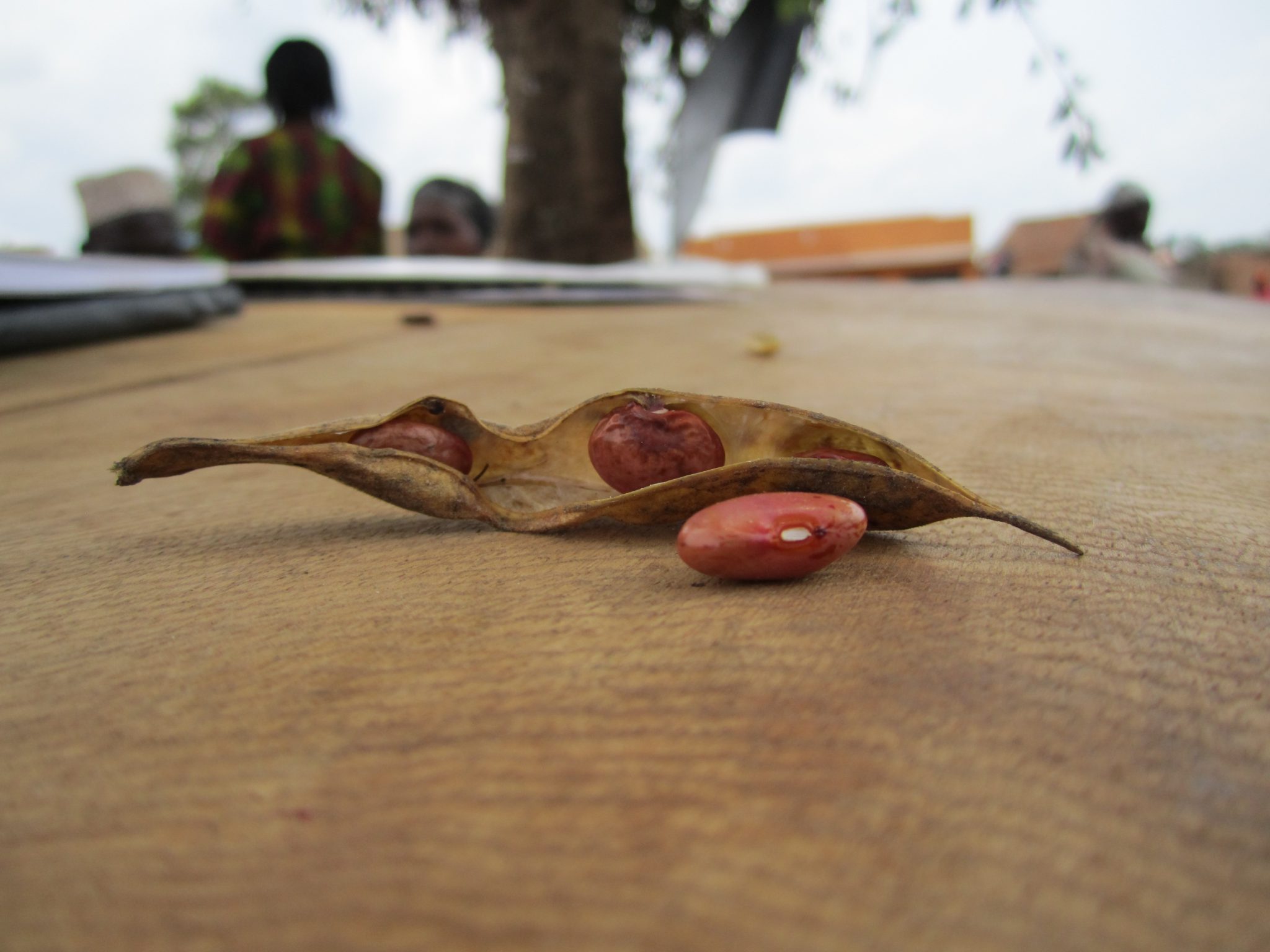 The success of the plant clinics has also been recognised by the Ugandan Ministry of Agriculture, Animal Industry and Fisheries, which has included the initiative in its five-year Development Strategy and Investment Plan to bolster pest and disease control.
The inroads made by the clinics are nonetheless under threat from unscrupulous dealers of counterfeit agro-chemical products. A frustrated Abraham told me that "when farmers buy these fake products at a cheaper price, they find that they are not effective. We have tried to intervene and close some fake input dealerships here. But still they are penetrating here and there and we find they are moving, hawking their drugs, which is very difficult for us to control."
Some clinic staff said that they direct clients to trusted agro-dealers known to sell genuine products and trained by Uganda's agricultural advisory services in providing advice to clients on the proper use of agro-chemicals.
In view of the need to minimise the damage caused to growers, markets and the environment by fake products, it seems reasonable to expect manufacturers, as well as the government, to take a stand against counterfeiting. This might be achieved by implementing a standardised system that enables distributors and farmers to easily verify bona fide agro-products, such as scratch-off verification codes on product packaging that can be verified via SMS.
Extraordinary people
The plant doctors and nurses are committed people who do commendable work, in often challenging circumstances. During my interviews with staff members, it was clear that they feel a real sense of civic duty and pride in their roles and a passion for helping resource-poor farmers.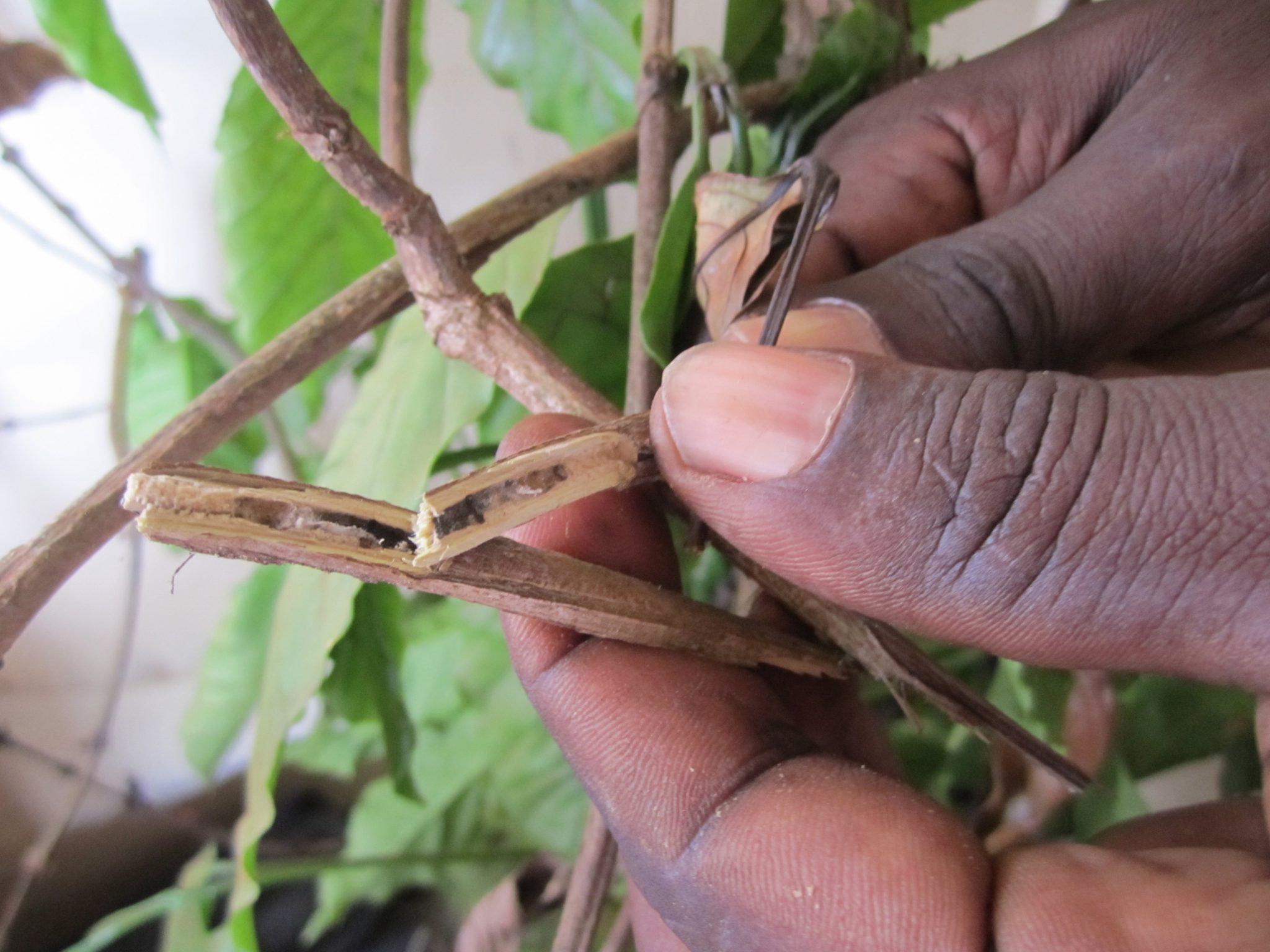 Despite operational constraints, the warm and ever-welcoming clinic staff members are incredibly committed to the initiative. They regularly subsidise clinic operations, using their own funds for transport to often remote clinic locations, for publicising clinic sessions, and for accessing up-to-date, web-based sources of verified plant health information. Although when interviewed clinic staff emphasised a need for enhanced support, they supplement existing facilitation because they are determined to help small farmers and their communities.
For Abraham, being a plant doctor is the job he had dreamt of in his teens. His beaming smile as he talked about his role seemed to say he's found his vocation: "I feel like I should make a contribution towards the success of a farmer. Therefore, by solving their disease challenges, I feel like I have also contributed to their wellbeing."
Showing off a hand-crafted papyrus basket, Abraham said, "For example, someone has appreciated me with this gift because I gave the solution to the problem, and she said, 'If it wasn't for you, I would not have invested as I did.' So, I feel proud of that."
About Andrew Tock
Andrew Tock is a BBSRC-funded Life Sciences PhD student at the University of Warwick Crop Centre. His project, supervised by Professor Eric Holub and Dr Guy Barker, applies next-generation DNA sequencing to enable genetic improvement of common bean (Phaseolus vulgaris L.), a globally important food security crop. Andrew had an unconventional entry into crop science with a professional background in human rights law and the economic and policy dimensions of food security at global risks advisory company Maplecroft.