Following World Water day, three new reports on water use are launched by the Global Food Security programme. GFS Science Writer Theresa Meacham pours over the results.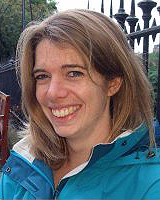 After land, water is the most important resource for farmers. Agriculture accounts for 75% of global fresh water extraction, yet it is often taken for granted. Irrigating land, mixing liquid fertilisers and sprays, providing drinking water for livestock, and washing down and cleaning equipment all require water.
Increasingly water is being recognised as a critical resource under threat. World Water Day is held on March 22 each year and is an opportunity to celebrate water, highlight people around the world who are suffering from water-related issues and also prepare for how we might manage water in the future. This year, the theme is 'Water and Sustainable Development'.
To mark the day, the Global Food Security programme is launching three reports which have been written by an expert panel of academics, policymakers and industry professionals, focusing on agriculture's impact on water quality, availability and water use in food imports.
Go with the flow
Large volumes of water are involved in food production. For example, it takes about 10 tonnes of water to produce a kilo of beef, or 1.6 tonnes to produce a kilo of wheat. Water quality in a catchment can also be impacted by agriculture through fertiliser and other chemicals, as well as from soil running off fields.
The impact of agricultural water use is also felt by countries which we import food from – especially because around 40-50% of the UK's food is imported from 168 countries. This means that around half of the UK's food and environmental impact is likely to be on land and water resources overseas.
It is anticipated that world demand for food will rise by 60-100% by 2050, driven by a growing population and changing diets. Any intensification of food production on the existing area of agricultural land is almost certain to increase pressure on water resources.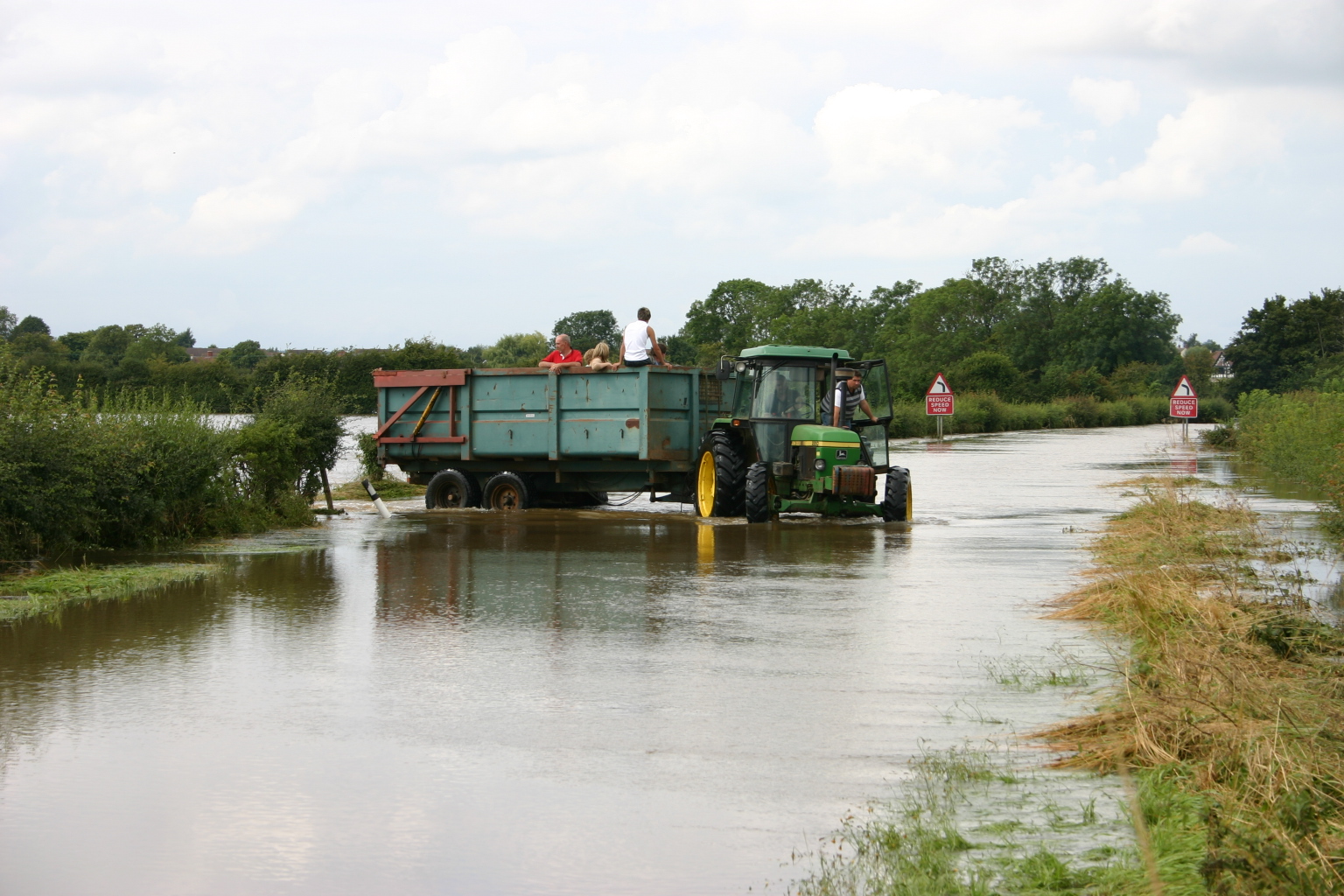 And it's not just a case of too little: alongside a growing population, extreme weather events such as droughts, heat and intense rainfall leading to floods are also predicted to increase in frequency. In the UK, the droughts of 2010-11 and floods of 2013-14 indicate that we have to plan for both increasing and decreasing water availability, especially because south east England is one of the most water constrained regions in Europe.
Reportage
Understanding these risks is therefore an important element for understanding the relationship between food and water, which are explored in the following three reports.
First, the work of the Farming and Water Action Group, led by the Global Food Security programme as part of the UK Water Research Innovation Partnership, has identified in the report Farming and Water: Facing the Future Together that the UK needs to formulate long-term plans to protect both water and food supplies here, and across international supply chains over the coming years.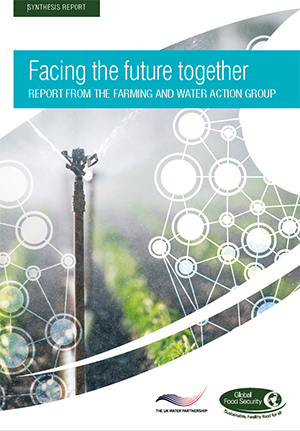 Water is a critical resource under threat, so recognising the risks will be vital to understanding how water use will change in the upcoming years. This synthesis report is an amalgamation of key findings from the three water sub-reports, produced by GFS and the UK Water Partnership.
(You can view PDF documents by downloading a PDF reader. We recommend using Google Chrome or Mozilla Firefox web browsers.)
This synthesis report emphasised that the frequency of extremes in weather, such as floods and drought, are going to increase in the future – and for this reason, it is necessary to consider what water availability could look like, so that effective plans can be put in place. For example, planning permission for public water supply reservoirs can take up to 10 years to implement and industries, such as supermarkets will need to increasingly look forward, to protect their supply chains.
The report also identified that there is a need for farmers to be empowered to make the best decisions to improve water quality and availability on their land and in their catchment, through building peer-to-peer networks between farms and other stakeholders within the area.
The second report explores further the link between Agriculture's impacts on water quality. Public and private sector decision makers often find that food, water and other ecosystem services supplied by land interact in complicated ways. To make effective decisions a long term perspective is often needed which takes into account the many aspects of water management – from the field, farm and catchment scale, through to considering the supply chain.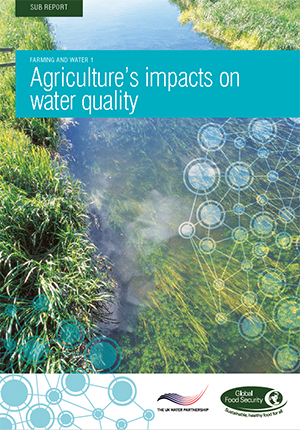 This sub-report details outcomes of an interdisciplinary working group, coordinated by GFS and the UK Water Partnership. Discussions focused on the routes by which high aspirations for environmental water quality could be balanced with significant growth in agricultural production, meeting food security and environmental objectives while providing viable livelihoods for farmers.
(You can view PDF documents by downloading a PDF reader. We recommend using Google Chrome or Mozilla Firefox web browsers.)
The third report looks at how to understand and manage the availability of Water use in our food imports which has been used to produce the food we import.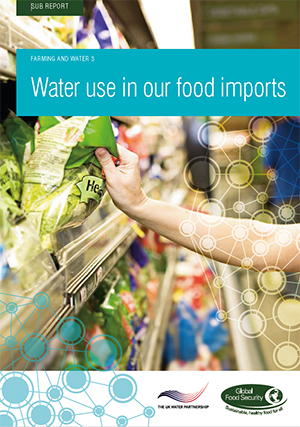 This sub-report details discussions of an interdisciplinary working group, coordinated by GFS and the UK Water Partnership. This report focuses on the issues presented by water availability in food trade, considering risks for different food system stakeholders when obtaining food from overseas in times of increasing global demand for fresh water.
(You can view PDF documents by downloading a PDF reader. We recommend using Google Chrome or Mozilla Firefox web browsers.)
Where next for water?
These water and food reports identify issues, evidence gaps and potential solutions to alleviate the tension of delivering more food, more water and good environmental conditions.
The authors invite those working in the sector to consider their recommendations, with a view to incorporating them in the water sector.
GFS will take forward the outcomes from the Food and Water working group in its joint UK-US Taskforce on 'Resilience of the agri-food system to climate extremes.' This taskforce is bringing together academics, policy makers and industry professionals from the UK and US, to look at plausible worst case scenarios which could lead to global shocks in food production.
The outcomes from this will be launched in the summer – watch this space!
About Theresa Meacham
Theresa Meacham is the Analyst and Review Writer for GFS. Before joining GFS, she completed a PhD at the University of Edinburgh, investigating how measurements and models of Carbon storage in forests can be improved.