What have we achieved so far? Head of the Global Food Security programme Riaz Bhunnoo takes stock of work to date.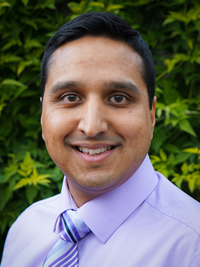 As Charles Darwin reportedly once said, "in the history of humankind those who learned to collaborate and improvise most effectively have prevailed". Even if he didn't actually say it, collaboration is essential to meet the food security challenge, and it is therefore a central pillar of the Global Food Security (GFS) programme. So what has GFS achieved to date?
To answer this question, we need to think about what GFS was set up to do – in brief, improve coordination and collaboration on food security research across the public sector.
This involves focusing research priorities and agendas around emerging food security challenges; greater coordination and collaboration across stakeholders to improve the design, delivery and translation (into policy, regulation and practice) of research across many disciplines; and engagement and dialogue to ensure that research delivers the maximum benefit to society.
It is noteworthy, especially in the current economic climate, that food and soft drinks is the largest manufacturing sector in the UK (and the 4th largest in the world) with the UK agri-food sector worth £96.9Bn and providing 3.6M jobs (PDF, 1.4MB) each year.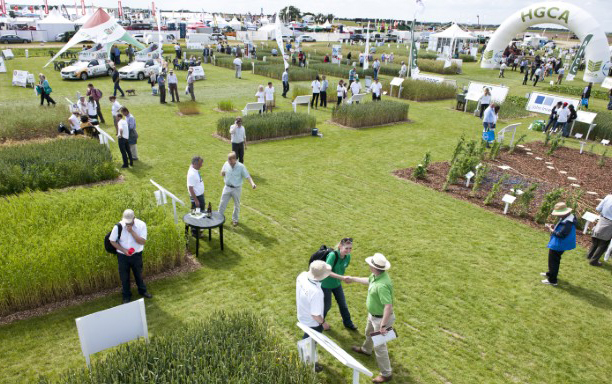 GFS has a strong unique selling point in bringing an interdisciplinary and systems approach to the food security challenge, and this has guided a lot of our activities. This perspective helps avoid narrow framings of the challenge and the possibility that a solution from one discipline leads to problems or unintended consequences elsewhere.
Impacts of GFS are showcased in our new report 'Impacts from the Global Food Security programme'. But before you dive headlong into that report, allow me to whet your appetite with a few of our biggest achievements.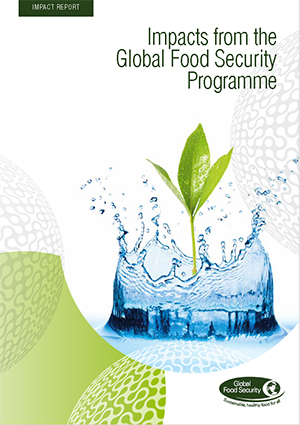 Document Information:

PDF 5MB

Date:

July 2015
The GFS programme brings together funding agencies, government and business both domestically and internationally to address the food security challenge. We deliver impact and add value through agenda setting, focusing research priorities, coordination and collaboration, and through public engagement activities, examples of which are provided in this report.
(You can view PDF documents by downloading a PDF reader. We recommend using Google Chrome or Mozilla Firefox web browsers.)
Interdisciplinary research
Our activities have identified many emerging challenges and these have ultimately help set the research agenda. For example, our new £14M research programme on 'Resilience of the UK food system in a global context', co-designed by GFS partners BBSRC, ESRC, NERC, Defra, FSA and the Scottish Government (SG), originated from our cross-stakeholder '100 questions' exercise. This will support truly interdisciplinary projects across the natural and social sciences in partnership with stakeholders, focused on sustainable intensification, international supply chains and consumer choice.
Another key example is the soils programme. Soils are vital for food security and, in this International Year of Soils, we have brought together BBSRC, NERC, Defra and SG, to catalyse strategic investments in this area worth over £13M. The £5M programme 'Soils and rhizosphere interactions for sustainable agri-ecosystems' (GFS-SARISA) was developed through GFS and funded by BBSRC and NERC, resulting in four multidisciplinary projects. Further investments were made by BBSRC, NERC, Defra and SG, including a £5M initiative on soil security, a £2.3M Centre for Doctoral Training in soil science, and a soils coordinator to bring together research and training investments to maximise impact.
Using existing knowledge
Co-funding of research is extremely valuable but this is only part of the picture.
We make better use of what we know already through synthesis reports, which provide cutting-edge knowledge in key food security areas to policymakers and practitioners in an easily accessible format.
Our flagship GFS Insight 'practice and policy note' series has covered topics including soils (PDF, 1.5MB), severe weather (PDF, 1.5MB), food price spikes (PDF, 1.5MB) and the UK aquaculture industry (PDF, 1MB).
GFS is a trusted intermediary with government and industry and acts as a neutral broker in bringing those stakeholders together with academia to tackle key challenges. One example is the GFS-led Agriculture Action Group, which provided the first really comprehensive exploration of the interaction between agriculture and water across industry, academia and policy and is helping to set the agenda for the future.
On the world stage
GFS has a growing international presence, led by our globe-trotting food security Champion Professor Tim Benton, who, in a typical week, might be meeting the UK Government one day, speaking to the UN FAO the next, raising awareness via a TV or radio appearance, then somehow finding time to speak at a Café Scientifique and university, while writing book chapters, papers and engaging posts for this blog. He's even consulted on a new play about the global food crisis 'Mouthful' running from 8 Sept to 3 Oct.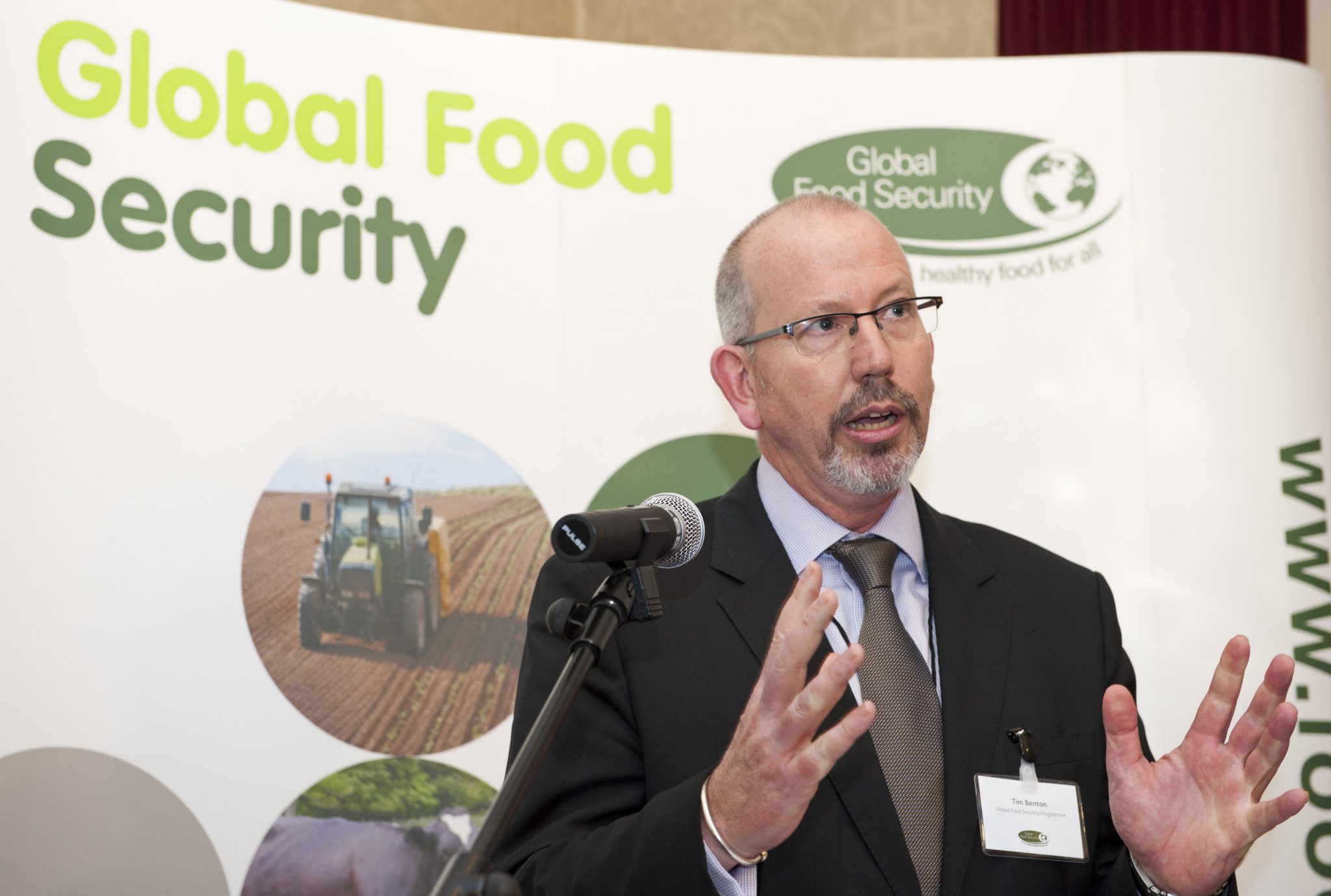 Our drive to increase international collaboration has led to a series of ground-breaking projects and reports. For instance, we led a UK-US project on resilience of the food system to extreme weather (PDF, 874KB), bringing together academia, policymakers and industry to understand the worst case scenarios for extreme weather impacting crop production, and the policy and business responses that would minimise negative impacts on people.
A key finding of the project was that a 1 in 100-year food production shock is set to become a 1 in 30-year event, and we need to make sure we're as prepared as we can be. Early work on this topic directly informed the IPCC's fifth assessment report on climate change and featured in a Nature Climate Change publication.
We provided lead authorship of an EU discussion paper (PDF) which spearheaded discussions at Expo 2015 on the EU's food security research priorities. GFS also led on a project for the G20 Meeting of Agricultural Chief Scientists to map the top research priorities in sustainable agriculture across the G20 countries. This will ultimately ensure countries target global research efforts and investment more effectively.
Listening to the public
Food security raises many different and often interconnected issues that are of high public interest both in the UK and internationally, not least because it centres on that most emotive of issues: the food we eat.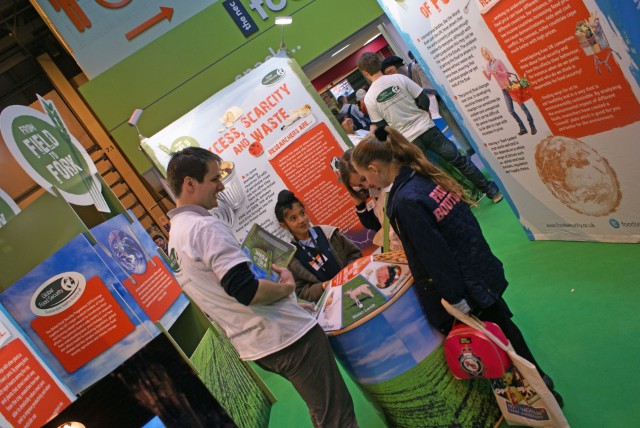 We have pioneered an innovative approach to public engagement through the establishment of a public panel to help us understand public views on topics such as new technologies and behaviour change, which will help shape research so it has the biggest societal impact.
Hopefully, this is just the start and has given you a flavour of where the GFS programme has helped to make a difference. Food security is one of the biggest challenges of our time and our recent work indicates that this will only become worse with climate change and a growing population.
Looking ahead to what could be a challenging spending review in the UK, it is more important than ever that GFS helps funders to work together to maximise the impact from the resources available to us.
And we'd like to thank everyone that supports our work and has shared our messages, reports and blog posts. It's exciting and satisfying to see it resonating with people on social media, and at events too. Please keep it up, and as always feel free to add your comments in the field below.
About Riaz Bhunnoo
Riaz Bhunnoo is Head of the Global Food Security Programme. Riaz leads a three strong team and drives forward GFS activities in partnership with the GFS Champion and the UK public funders of food security research. Riaz has worked at BBSRC since 2005, and in that time has also undertaken a secondment to the RCUK Executive Directorate to work on cross-Council research coordination and policy. Riaz is a strong advocate of interdisciplinary working to tackle the biggest challenges facing society.