What causes sudden increases in commodity costs, and can we stop them in the future? Theresa Meacham introduces a Global Food Security publication.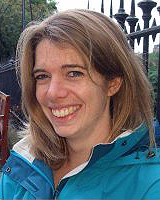 'Banks making millions out of starving millions through food speculation' was the headline in the Metro following the food price spikes back in 2012. Prior to this, the Telegraph was also asking 'Should food be a protected commodity?' following the 2007/08 price spike and 2010 price rises.
But how much can we blame bankers (or food commodity traders) for causing the food price spikes? And will there be more food price spikes in the future?
The series of food prices spikes between 2007 and 2012 happened after a period of stability that stretched back to the 1970s. Financial markets and speculation may have had a role in the cost of an average shopping trip increasing; however there were a number of other factors coming into play as well, including bad weather, biofuels, oil prices and poor policy decisions (for example, export restrictions and stockpiling).
It is unclear the extent to which banks and speculation played a part and it would be impossible to attribute the price spikes to one single factor. The latest Insight about food price spikes explores some of these issues.
Exploring expert opinion on food price volatility
Whilst writing the Insight I have spoken to top economists from across academia and within the UK Government. A key question I've been asking them is what will happen to food price volatility in the future, and can we do anything to increase food price stability?
The answer that I kept hearing was – that there was no consensus opinion!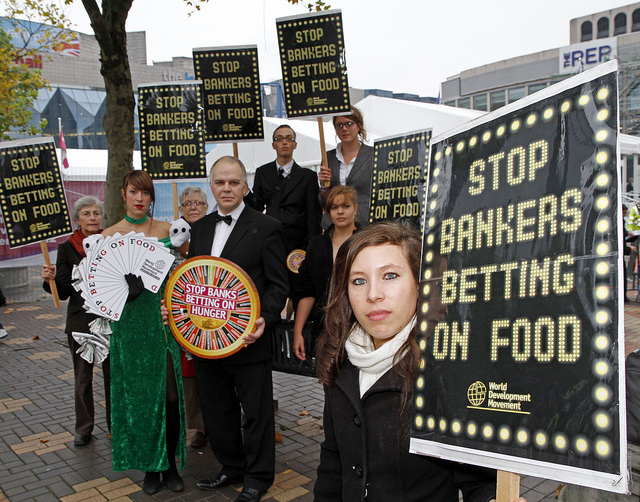 Food prices may become more volatile in the future, due to a range of factors including an increase in severe weather events, a growing world population, trade barriers and biofuel mandates. However, there was little agreement about whether any interventions would be beneficial.
Many researchers are wary of the potential deleterious consequences that interventions could bring, such as increasing stocks, greater regulation and diverting grains at times when price spikes are looming.
For example, increasing public stocks of cereals could help to stabilise prices and act as a famine buffer, however stockholding could also have negative impacts by distorting the market, discouraging stockholding in the private sector and is also very expensive.
I found that the only suggestion that had unanimous support was the need for greater transparency within food markets. In response to this need, the FAOs Agricultural Market Information System (AMIS) has already been established.
AMIS seeks to strengthen collaboration and dialogue among main producing, exporting and importing countries by analysing and disseminating food market information and encouraging the coordination of policies and common strategies.
The EU is also aiming to improve the way European commodity markets function by reducing gaps in transparency to investors and regulators. In January 2014, the EU reached an agreement to update the Markets in Financial Instruments Directive (MiFID), although the agreement is still waiting to be formally approved by the assembly and national governments to take effect.
The Insight series
Whilst writing on other food-related subjects for the Global Food Security programme's Insight series, often it has been the conversations about developing research programmes and innovative new ideas which have enabled some of the most interesting aspects of Insight to develop. The series brings together these views, providing a balanced analysis that policymakers and practitioners can use.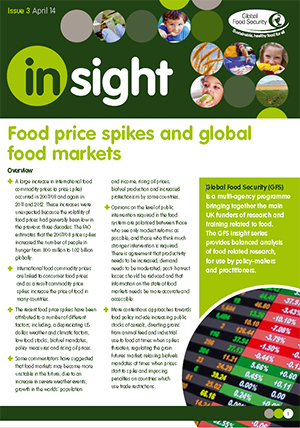 GFS Insight aims to offer a balanced and interdisciplinary representation of the current state of knowledge in a particular area relating to food security. This issue explores the factors behind recent global food price spikes, and potential routes for improving food price stability.
(You can view PDF documents by downloading a PDF reader. We recommend using Google Chrome or Mozilla Firefox web browsers.)
For instance, whilst compiling the first Insight about the importance of soils we found that one reason why soils are vulnerable to degradation is that there is not a single piece of legislation written to protect them. Instead soils are indirectly protected by a complex array of many different regulatory mechanisms (such as the Water Framework Directive, Environmental Stewardship and Single Farm Payment schemes).
Our next subject in the Insight series will be on the aquaculture industry in the UK.
About Theresa Meacham
Theresa Meacham is the Analyst and Review Writer for GFS. Before joining GFS, she completed a PhD at the University of Edinburgh, investigating how measurements and models of Carbon storage in forests can be improved.