Agricultural scientist Andy Whitmore from Rothamsted Research introduces a new network for scientists working on sustainable intensification.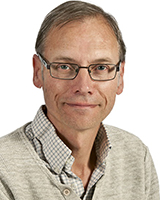 The sustainable, secure and resilient production of food to feed our growing population in the face of environmental change is one of the most pressing problems of our age. And in keeping with other major scientific endeavours such as the search for the Higg's Boson or deciphering the human genome, it requires a huge, concerted effort from the world's scientists.
One strategy for addressing the linked challenges of food, environment and society has been called sustainable intensification (SI), which calls for the intensification of agricultural production of nutritious food, at the same time as equally intense effort into measures to conserve natural resources such as biodiversity and avoid harming the environment, while ensuring a socially just balance between all these things*. Got that?!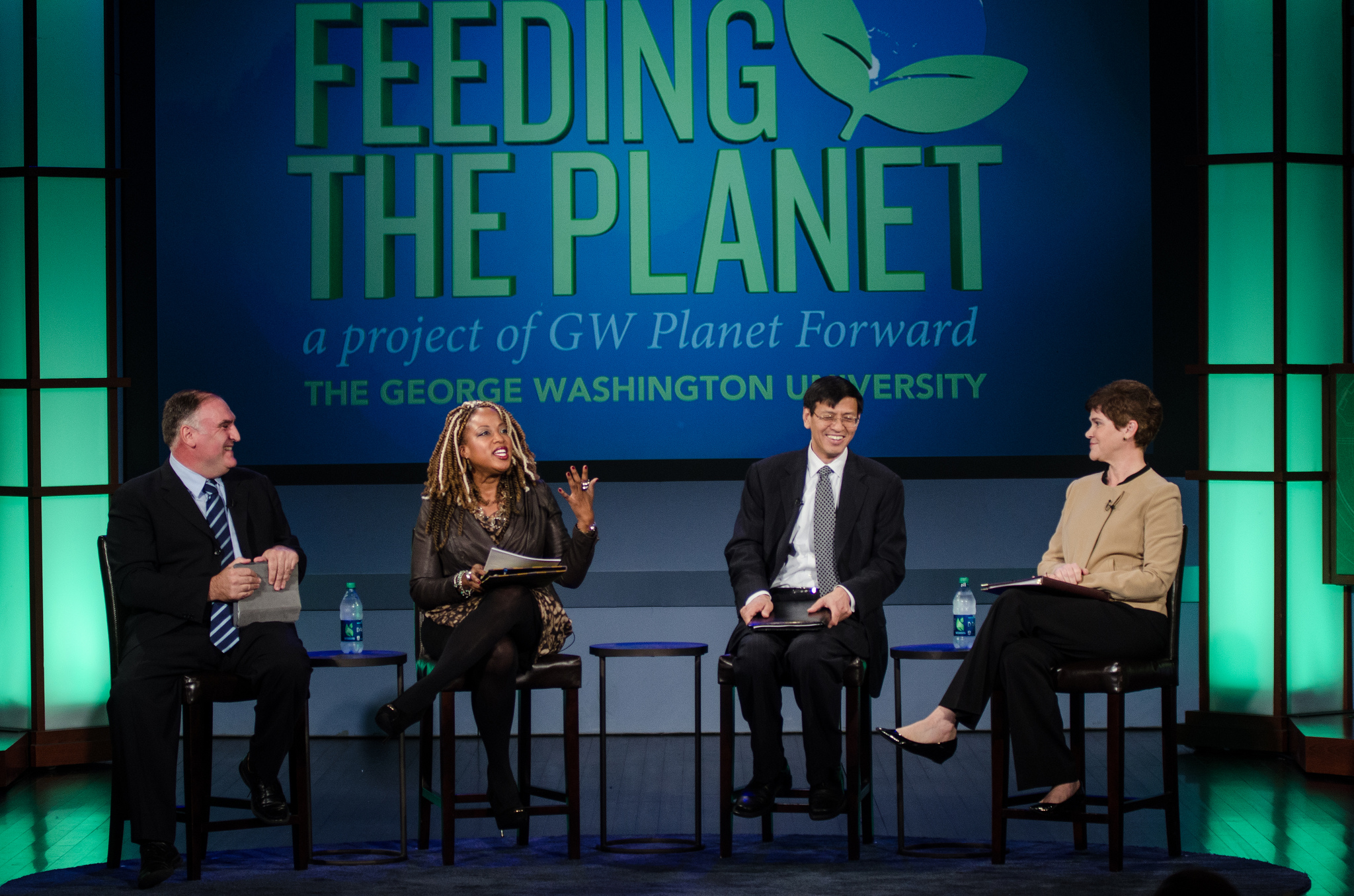 If this sounds like a tall order, think of the variability in environmental, economic and social conditions of agriculture worldwide. In contrast, an obvious end point such as the discovery of a new subatomic particle seems simplicity itself!
*Yes, definitions of SI vary: see GFS blog posts from 2012 by Tara Garnet (webpage no longer available – April 2017) and Tim Benton (webpage no longer available – April 2017).
Big problems need big science
However, we agricultural, environmental and social scientists could learn a thing of too from the physicists at CERN – they invented the World Wide Web after all. Their infrastructure is so expensive to build and run and, at several miles in diameter, so lacking in portability that they have had no choice but to collaborate and pool knowledge and results.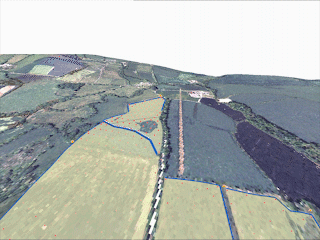 Research aimed at achieving SI requires similarly intense collaboration between scientists in different fields. The interacting disciplines are too many and the different environments in which sustainable agriculture must function are too variable for any one individual, department or institution to oversee.
Some UK research institutes do have large, expensive infrastructure such as the Farm Platform at North Wyke. Others have detailed datasets on biodiversity, soils, or manage surveys for interested parties such as the UK Government's Defra, which also undertakes many surveys of its own.
Clearly, and especially in these austere times, not everyone can have a fully instrumented farm or bespoke survey. Equally, it makes little sense for all parties to collect nationwide data on soils, biodiversity or farm profitability.
The key to make progress is to find a way to make these resources as widely available as possible to interested researchers or industry, while ensuring sufficient funding for the host organisation that allows it to continue to maintain and develop the resource.
Come together, stay together
Recognising these issues, and stimulated by the Global Food Security programme, a few of us approached funders BBSRC and NERC to support a workshop to discuss better ways of working together. Such an approach was opportune given that these UK Research Councils are looking for ways to make better use of their 'National Capabilities', as they call them, such as the farm platform above.
One suggestion that came up both before and during the workshop was the development of a web portal to help network scientists and eventually industry together.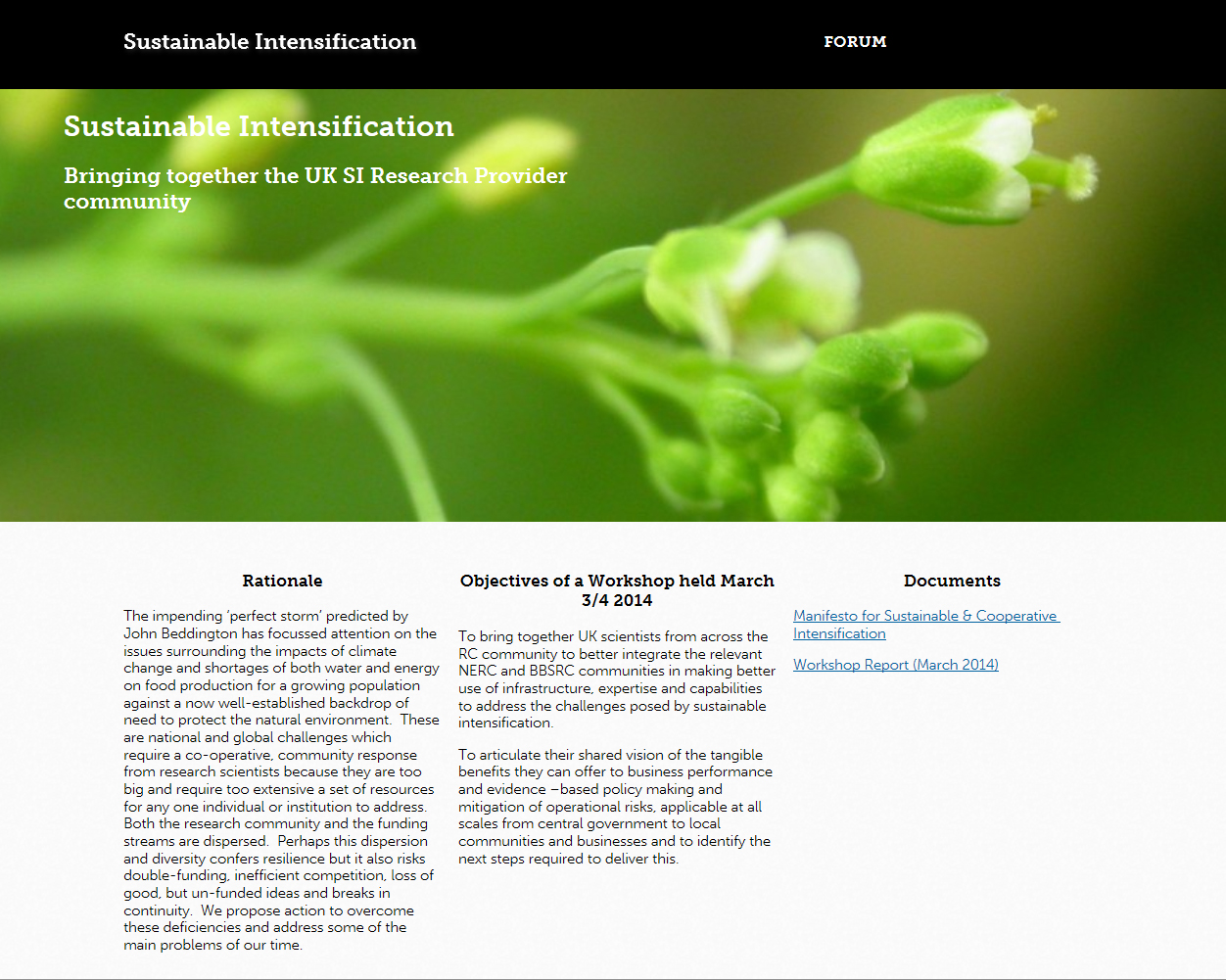 This is now being launched and the intention is that it can host blogs, link to members' research pages elsewhere or become a source of information, funding opportunities and so on. It also supports discussion forums where members can exchange views and seek partners for funding. Although the network is unfunded at present, it is hoped to be able to support a scientist to coordinate activities soon.
One other thing we can learn from the physicists is that no-one told them to lobby for the creation of CERN. There wasn't a call announced from a European Research Council for research infrastructure that could investigate subatomic particles. They conceived the idea as a way to raise the standard of European nuclear physics.
Thus our, network for SI should become self-organising: capable of interfacing with particular aspects of SI that a funder or industry needs to see addressed. And to pull together a group of scientists capable of carrying out the necessary research and negotiate access to any required infrastructure or data.
Other networks that have united a community such as GARNet have done so around a specific issue, such as access to expensive analytical facilities. To thrive, our network will have to evolve a way to provide both access to infrastructure as well find funding to support the research.
By maintaining a permanent knowledge hub too, the network can help bring all the pieces of the puzzle together towards the Grand Challenge of SI: the secure, resilient, just, effective, economic and environmentally-responsible production of food.
About Andy Whitmore
Andy Whitmore is a soil scientist working in the area of modelling the agricultural carbon and nitrogen cycles, soil physical processes and sustainable agricultural systems. After studying chemistry, he began his career at Rothamsted, moved to the Netherlands for 8 years but is now back in the UK at Rothamsted again. He is responsible for a work package on Quantifying Sustainable Systems in the BBSRC-funded Institute Sustainable Programme grant on Delivering Sustainable Systems.