A new network helps researchers get their hands dirty. The Soil Association's Tom MacMillan explains how you can get involved.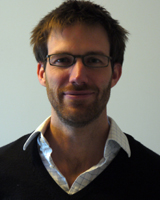 What would agricultural R&D look like if farmers were in charge?
I've written for this blog before about the Duchy Future Farming Programme, which recognises and supports innovation by farmers. With three years of 'field labs' under our belts, involving more than 750 farmers and looking into 35 topics, we've just launched its next phase – a network called Innovative Farmers.
Innovative Farmers has a wider pool of participating researchers, more funding available to those involved and a web portal to help get the word out.
Over the next five years we aim for 1,400 farmer members and to reach a total 10,000 farmers through wider knowledge exchange. Behind it is a broader partnership, involving Living Environment and Farming (LEAF) and Innovation for Agriculture alongside the Soil Association, Organic Research Centre, supermarket Waitrose and The Prince of Wales's Charitable Foundation that led the first phase.
Experiments across the country
The field labs have looked at a good spread of sectors and systems across the UK, from arable farms in the east of England to dairy in the south west; pigs in Scotland to beef and sheep in Wales.
The overwhelming focus has been on better ways of doing things. Whereas much R&D investment – both public and private – ultimately goes into developing new stuff to sell to farmers, most of the field labs have been about making the best of a farm's resources using existing technology.
Examples include bringing sheep into an arable farm to help control blackgrass, a pernicious weed; comparing homemade, peat-free woodchip compost with commercial products for use in horticulture; encouraging hens to get more of their feed from insects on the range; and understanding the nutritional value to livestock of diverse forage.
Where projects try out new tools and kit, they do so from the farmers' perspectives – the agricultural equivalent of consumer testing. Sometimes farmers are being sold new types of product, such as bio-stimulants, and want help evaluating the manufacturers' claims. Sometimes some in a group swear by a particular tool and others want to test it, for example a liniment (balm) to reduce mastitis in dairy cows. Or there's the case, again related to mastitis, where a group are the first in the UK to evaluate a tool for rapid-typing infections that has been introduced from the USA.
Evidence and expectations
In a field lab, a group of farmers experiment with help from a coordinator and a researcher. But the farmers aren't the subjects or there just to help out; it is their project, and the researcher is there on their terms. A crucial part of the coordinator's job is to keep things that way.
Nevertheless, the researcher is vital because they make sure the farmers use their time well. This means designing a trial that will answer the farmers' questions, and being clear how much or little confidence they can have in the results.
Ultimately, research design is down to the farmers. They're the ones doing the work and carrying the cost and risk. But the researcher can confront them with the consequences of their choices – if they replicate less, run a crop trial just for one year, or are tempted to drop the control when the treatment seems to be working, will they still be able to put the weight that they'd like on their findings?
What standard of evidence counts as good enough depends on the question. Scientists are used to aiming high – for findings that can be generalised with a high degree of confidence – which is crucial to having strong enough conclusions to inform policy-making.
But farmers often make do with patchier probabilities. Indeed, gold standard science can feel like overkill if the quality of information in the rest of their business is constrained by inherent unpredictability (the weather and the market), the data they can collect, or the time to make sense of its complexity.
Where farmers can't compromise is on timeliness and relevance. They're not interested in a definitive answer to yesterday's problem, or to their neighbour's.
Research partners
We're confident researchers can gain too. The network provides a structure for engaging directly with farmers, assurance that you're doing it on their terms, and a cost-effective pathway to impact. It offers a way to co-design projects with the end-users of research.
To get involved, a researcher commits a minimum of 24 hours per year of in-kind help to a farmer group we've matched them with. This could cover a quick desk review, a couple of farm visits and some analysis. They can then apply with the group for our small grants – we're offering up to £10,000 per project and aim to award £825,000 over the next five years.
As a researcher, the dissemination is done for you. The group's coordinator works with you to write a short summary on the web portal, and we spread the word through wider events, social media and putting stories to the farming press. Since April this year, field labs have featured in more than 40 articles in farming titles like Farmers Weekly and the Farmers Guardian.
We will use our own monitoring and evaluation, including information that farmers provide through the portal, to report back to researchers on their impact. How many farmers are doing something different with your help, across how many hectares? Uniquely, the fact this is a network means researchers will be able to benchmark their group's impacts against others.
Some researchers are also writing groups of Innovative Farmers into research proposals, including to UK funders or the EU Horizon 2020, to meet their dissemination and impact requirements.
Get involved!
We're delighted that some of the UK's leading agricultural research groups are already research partners, such as Rothamsted Research and IBERS, which both receive strategic funding from Global Food Security programme partners BBSRC. In addition, GFS Champion Professor Tim Benton (who blogs here regularly) is on the Steering Group.
We think it's an exciting model. We've drawn on participatory approaches around the world to design it, and adapted them to the UK. The field lab method is intentionally simple and flexible, and the portal shares findings. The coordinators are motivated to keep on sharing, because doing so draws further support and funding for their group.
To register for updates or join the network visit www.innovativefarmers.org. If you'd like to find out more about being a coordinator or a researcher in the network, email info@innovativefarmers.org.
Follow Innovative Farmers on Twitter.
We look forward to hearing from you!
About Tom MacMillan
Dr Tom MacMillan is Director of Innovation at the Soil Association.