As armyworms return to devastate crops in Africa, Lancaster University's Professor Ken Wilson reports on renewed efforts to bring a sustainable solution.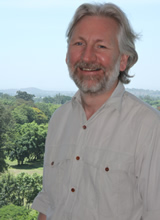 As we roll into 2017, my thoughts cast back to a whirlwind visit I made to Zambia at about the same time of year four years ago.
I witnessed a major outbreak of African armyworm caterpillars destroying the vital maize crops of local smallholder farmers and causing a country-wide food security crisis. As you can see in the video below, I met with the then Vice President of Zambia, Dr Guy Scott, and told him of our ongoing research, funded (PDF) by Global Food Security programme partners BBSRC and the UK's Department for International Development (DfID) aimed at developing a locally-produced biological pesticide against this devastating plant pest.
In December 2012 a serious outbreak of armyworms began rampaging across Zambia, infecting almost 100,000 hectares of agricultural land. As of Jan 2013, the insects had spread to five other countries.
In this video diary, Professor Kenneth Wilson of Lancaster University reports on his trip to Zambia to meet the country's Vice President Dr Guy Scott. Wilson advised him on new research funded by the Biotechnology and Biological Sciences Research Council (BBSRC) that uses a natural virus that can be produced locally, so the use of expensive imported chemical pesticides could be reduced or eliminated entirely.
By 2017, I hoped we would be in a position to be able to offer Zambian farmers, and others across sub-Saharan Africa that fall prey to this insect, a biopesticide produced by my Tanzanian collaborators at Crop Bioscience Solutions at the bespoke biopesticides facility in Arusha funded by DfID.
But armyworms are back wreaking havoc in Zambia again in 2017 (see postscript) and we are still some way off providing the region with the biopesticide I had promised. In this blog post I discuss some of the reasons for this delay and the steps we are taking to try to fulfil this promise.
Why do we need biopesticides?
The pressing need for alternatives to chemical pesticides was the subject of a recent GFS workshop and blog post: How would we cope with a post-pesticide world?
As harmful chemicals become increasingly regulated and many active ingredients disappear, there is a genuine possibility that we will become more and more reliant on just a small pool of chemical actives that this will promote stronger selection for crop pests to evolve resistance. We therefore need to invest in alternative solutions, including biopesticides.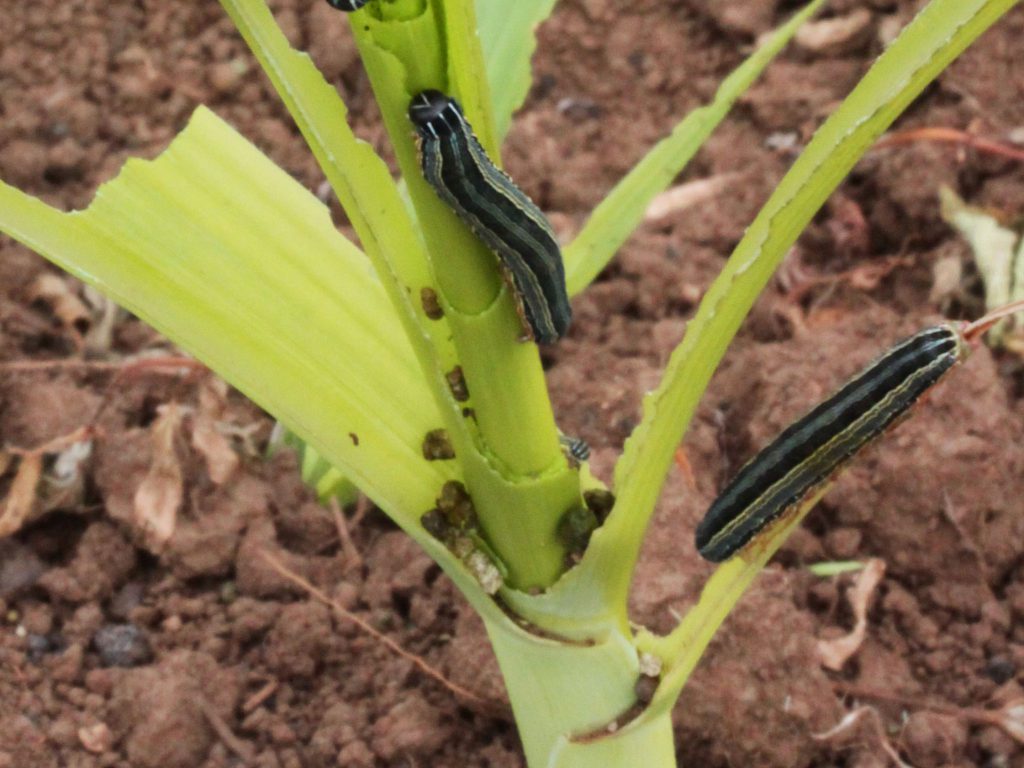 Biopesticides are crop protection products that are derived from plants or microbes, such as bacteria, fungi and viruses. The armyworm biopesticide, SpexNPV, is derived from a natural baculovirus of the armyworm caterpillar and is endemic to Africa.
Our previous BBSRC-funded research has shown that whilst most armyworms carry the virus at low, sub-lethal levels, SpexNPV is lethal to armyworms if they ingest a sufficiently large dose, making it an effective biopesticide. We have also shown that it is safe for non-target organisms, including humans, as it only infects African armyworm caterpillars.
Why, then, do we not yet have a commercial product? And, more generally, why haven't biopesticides replaced chemicals?
Where is the growth in biopesticides?
Although showing steady growth, biopesticides currently comprise only around 5% of the global pesticides market. Given that biopesticides are recognised by both the EU and the OECD as being much safer for the environment and human health than synthetic pesticides, why is production so low, especially given that the pesticides market as a whole is estimated to be worth more than $60Bn a year?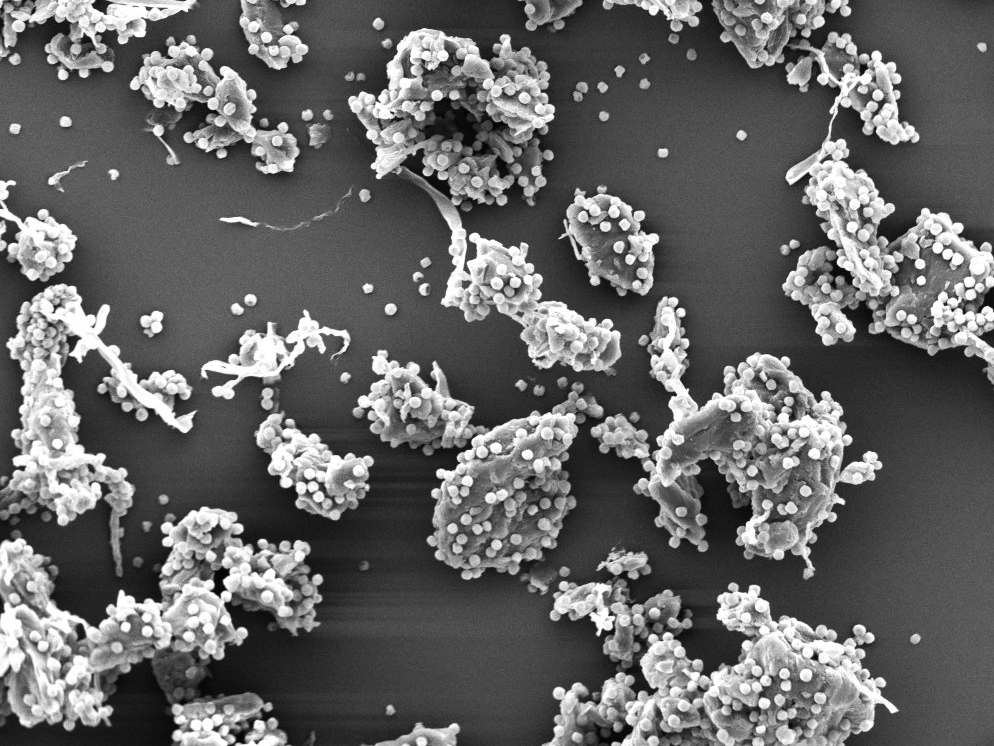 As discussed at the GFS workshop, the cost of biopesticides is a barrier to uptake, since they often cost more than equivalent chemicals. And there are other interacting reasons, including variable and environment-dependent efficacy, narrow target range, relatively slow speed of kill, and short shelf-life and on-crop persistence, requiring frequent application.
To be competitive, biopesticides will probably need to be both cheaper and more effective than currently and more competitive to their chemical counterparts to overcome their perceived negative attributes. To do this, we need to get 'smarter'. As well as employing biopesticides within a coherent Integrated Pest Management (IPM) system, as envisaged by the EU Sustainable Use Directive, we also need to develop novel biopesticide formulation and application approaches to maximise their advantages.
How agri-tech funding helps
The £70M Agri-Tech Catalyst funding scheme was established in 2016 by Innovate UK (also a GFS partner) and has provided a useful funding mechanism for academia and the private sector to come together to explore novel ideas to improve areas such as crop protection.
Recently, I was lucky enough to receive funding from this scheme to try to see if we could make biopesticide formulation smarter. The project is led by Exosect, a formulation technology company that specialises in the novel delivery of biological and synthetic active ingredients, using its proprietary Lean Formulation Technology, which is then out licenced to commercial partners, in this case virus producers, who can take products to market. Also part of the academic team is David Grzywacz at the University of Greenwich, my long-term collaborator on the armyworm SpexNPV project.
We aim to combine baculoviruses with Exosect's Entostat waxes in a novel way, so as to extend both its shelf-life and its life on the crop by reducing the virus' exposure to damaging UV radiation from the sun. We envisage that this will greatly enhance its effective lifespan on the crop, so reducing the need for multiple applications and reducing costs by minimising the application rate needed to obtain control.
It is early days yet, but results are encouraging, so watch this space. The next stage of the SpexNPV project – taking the biopesticide through the registration process – is expensive and takes time, but by making biopesticides more cost effective, we hope that registration of these viruses (which lies outside the scope of the current AgriTech UK project) will become more economically viable.
Add your comment below, and follow Professor Ken Wilson on Twitter.
About Ken Wilson
Professor Ken Wilson is an evolutionary ecologist based at Lancaster University and is interested in the interactions between insects and their pathogens, especially baculoviruses. He has been obsessed with the African armyworm ever since his first field visit to Kenya in 1989, and has been 'armyworm chasing' ever since.