GFS is a coordinator and facilitator of scientific research, with the aim of providing strong scientific evidence and influencing policy and practice.
We identify and convene interested and essential stakeholders and partners to develop multi-year research programmes. This research takes an interdisciplinary and whole-system approach to pressing food system and food security challenges.
Currently, we have two active research programmes addressing the UK food system in a global context. These involve multiple projects, activities and stakeholders in the UK and around the world. They are supported by partners across government departments and agencies, the devolved administrations and UKRI.
Transforming UK Food Systems SPF Programme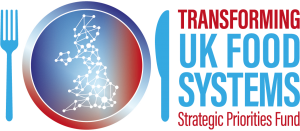 Launched in autumn 2020, the Transforming UK Food Systems SPF programme is a £47.5M interdisciplinary programme that will help to transform the UK food system by placing healthy people and a healthy natural environment at its centre.
Resilience of the UK Food System in a Global Context
Running from 2016-2021, the £14.5M programme Resilience of the UK Food System in a Global Context (GFS-FSR) has been co-designed by funders and stakeholders. This major interdisciplinary research programme aims to help policymakers and practitioners  optimise the resilience of the UK's food system to environmental, biological, economic, social and geopolitical shocks.