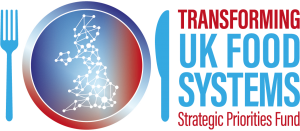 Research & Training funded under the Transforming UK Food Systems SPF Programme.
The UK Food Systems Centre for Doctoral Training (UKFS-CDT)
The UKFS-CDT aims to develop the next generation of food system change makers for a healthy and sustainable food future.

From 2021 through to 2027, the UKFS-CDT will train over 60 interdisciplinary doctoral researchers capable of leading the UK towards a resilient, healthy and inclusive food future, with the first cohort starting in autumn of 2021.
Find out more here.
Projects funded under Call 1:
Four interdisciplinary research projects have received funding through the first funding call in the Transforming UK Food Systems Programme. These five-year programmes are multi-centre, interdisciplinary and bring together the different parts of the food system. They will address issues such as obesity, sustainable agriculture and global warming.
Download summaries of the projects funded under Call 1 (PDF, 1.6MB)
The projects to receive funding are:
FixOurFood
Healthy soil, healthy food, healthy people (H3)
Co-production of healthy, sustainable food systems for disadvantaged communities (FoodSEqual)
Transforming urban food systems for planetary and population health (The Mandala Consortium)
FixOurFood, Professor Bob Doherty, University of York
A vision for a Yorkshire food system constituting regenerative and equitable healthy eating for young children, supported by regenerative hybrid food economies and regenerative farming.
This project will look at interventions in food retailing and farming to address issues such as childhood obesity, sustainability in agriculture and global warming.
Healthy soil, healthy food, healthy people (H3), Professor Peter Jackson, co-Director of the Institute for Sustainable Food, University of Sheffield
Bringing together world-class researchers from Sheffield, Leeds, Bristol, Cambridge and City universities, this project seeks to transform the UK food system 'from the ground up.'
It will use an integrated programme of interdisciplinary research on healthy soil, healthy food and healthy people (H3).
The project will:
evaluate and refine regenerative agriculture measures to protect and restore soil health
use innovative methods such as hydroponics and biofortification
consider consumer demand, public acceptability and affordability.
Co-production of healthy, sustainable food systems for disadvantaged communities (FoodSEqual), Professor Carol Wagstaff, University of Reading
Preliminary work has shown that people living in disadvantaged communities have the desire to eat a healthier diet and are aware that good nutrition is closely linked to good physical and mental health.
This project will focus on sharing knowledge and learning from working with:
people from a variety of disadvantaged communities

Whitley-Reading
Brighton & Hove
Tower Hamlets
Plymouth

small and large food businesses
policy-makers.
This will help develop solutions that will provide people living in disadvantaged communities with improved access to fresher food and a balance of desirable, sustainable, affordable and healthy products.
It will identify opportunities to prevent food loss from 'mainstream' supply chains and identify where increased sustainable production of primary food ingredients is needed.
Transforming urban food systems for planetary and population health (The Mandala Consortium), led by Professor Martin White, Professor of Population Health Research in the MRC Epidemiology Unit, University of Cambridge
Focusing on the city of Birmingham, this consortium brings together internationally renowned teams from the universities in:
Cambridge
Birmingham
Warwick
Exeter
London.
It aims to transform the urban food system and its relationship with its regional economy in the West Midlands.
Mapping of the local food system will determine the most powerful levers for system change. These are likely to include new ways of procuring healthier and more sustainable foods in the public sector, and developing online systems to help businesses find and use more locally grown food.
Interventions will be evaluated to demonstrate how food can be made healthier, more affordable and less harmful to the environment, but still profitable.
Projects funded under Call 2:
11 research projects have been awarded funding, each spanning between two and three years in total, addressing key issues such as:
obesity and public health
sustainable agriculture
alternative protein sources
consumption patterns
They will also take a food systems approach by integrating aspects from both:
production, processing, manufacturing and food environments
healthier diets and consumption.
All 11 projects integrate both social and natural sciences and collaborate with at least one stakeholder organisation from government, business or civil society. They also address current UK government research and development priorities.
Transforming UK Food Systems Funded Projects Call 2
The 11 successful projects:
University of Bristol: Sustainable nutrition, environment, and agriculture, without consumer knowledge
University of Reading: 'Raising the pulse': systems analysis of the environmental, nutritional and health benefits of pulse-enhanced foods
University of Exeter: Transformational blueprint for a blue economy on UK terrestrial farms: integrating sustainable shrimp production in a changing agricultural landscape
Harper Adams University: Pasture to plate: realising the enormous potential of UK grasslands
Middlesex University: Social enterprise as a catalyst for sustainable and healthy local food systems
Royal Agricultural University: Is cultured meat a threat or opportunity for UK farmers?
University of Edinburgh: Transforming the debate about livestock systems transformation
University of Oxford: Thinking beyond the can: mainstreaming UK-grown beans in healthy meals
University of Reading: Increasing UK dietary fibre: the case for the great white British loaf
Newcastle University: Sus-health. Sustainable and healthy diets for all.
University of Aberdeen: FIO-food, food insecurity in people living with obesity: improving sustainable and healthier food choices in the retail food environment
Projects funded under Call 3:
The successful project, led by the University of Reading, aims to model a suite of factors that influence food imports to the UK market. It will also delve into the associated interventions that could be implemented to transform the UK food system to improve the dietary health of UK citizens and the health of the environment.
The University of Reading led project aims to develop a blueprint for a coordinated set of policy interventions to support the transition to healthy and sustainable diets in the UK.
The interventions considered will include:
fiscal and trade policy measures
food supply and value chain structural innovations
industry-led initiatives that can facilitate and support the transition to healthy and sustainable diets