The programme will produce a variety of activities and outputs aiming to address health, environmental and social challenges.
Mapping the UK Food System
Mapping the UK Food System – A Report for the UKRI Transforming UK Food Systems Programme is the first report from the programme.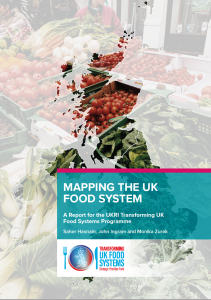 The research, published in November 2020, draws together publicly available data sources, public documents and research articles to map and quantify the food system. The findings reveal the economic value of the UK food industry while highlighting number of negative outcomes in the current system. These include a heavy reliance on imports, skills shortages, poor working conditions, unsustainable production methods and diet-related disease.
Download the full report (PDF, 6.3MB)
Download the Executive Summary only (PDF, 1.6MB)
Erratum
We are grateful to colleagues for alerting us to updated data. The current PDF includes the following corrections to the version which was originally posted on 4 November 2020.
P37:  Disposing and recycling; the figure of 9.5 million tonnes relates to annual post-farmgate waste in the UK, not, as previously stated,  waste from the hospitality and food service sectors. (Source WRAP)
P38:  The date in Figure 24 relates only to household food waste, not, as previously stated, to total UK food waste. (Source WRAP)