On 10th March 2020, the five finalists of the 2020 GFS Speak Up for Food Security competition arrived at Cambridge Science Festival to take part in GFS's first public-facing research storytelling competition final 'Once Upon a Food System'.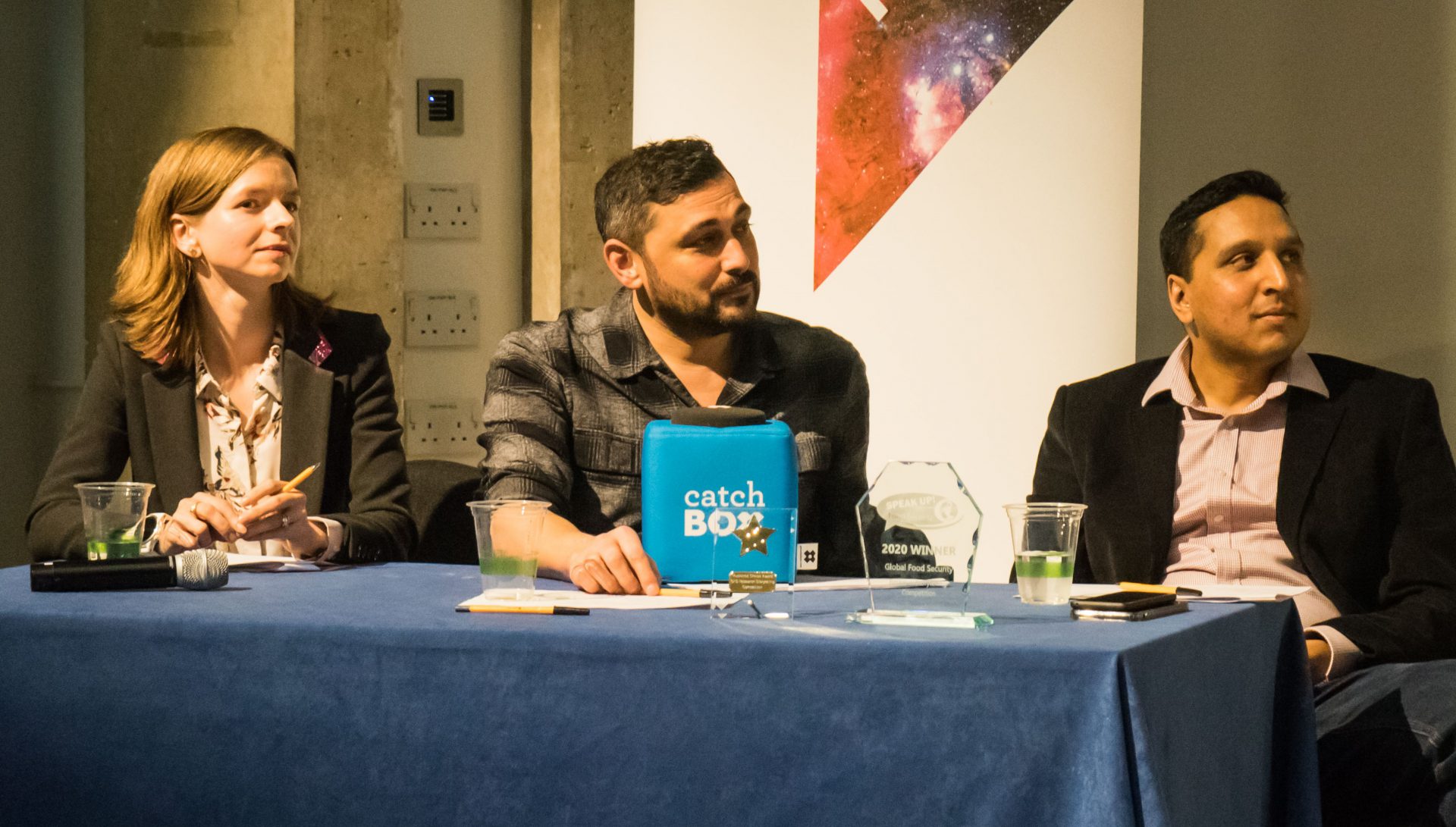 Each finalist was given 5 minutes to tell their research-inspired stories, which had been crafted to engage people with their research and encourage them to think differently about the food system. They presented to a crowd of over 120 people and a panel of judges, consisting of geneticist, author and broadcaster Dr Adam Rutherford, Director of the GFS programme Dr Riaz Bhunnoo, and the winner of last year's Speak Up for Food Security competition, Claire Kanja from Rothamsted Research. The event was hosted by GFS project manager, science writer, and founder of the Speak Up competition, Maia Elliott.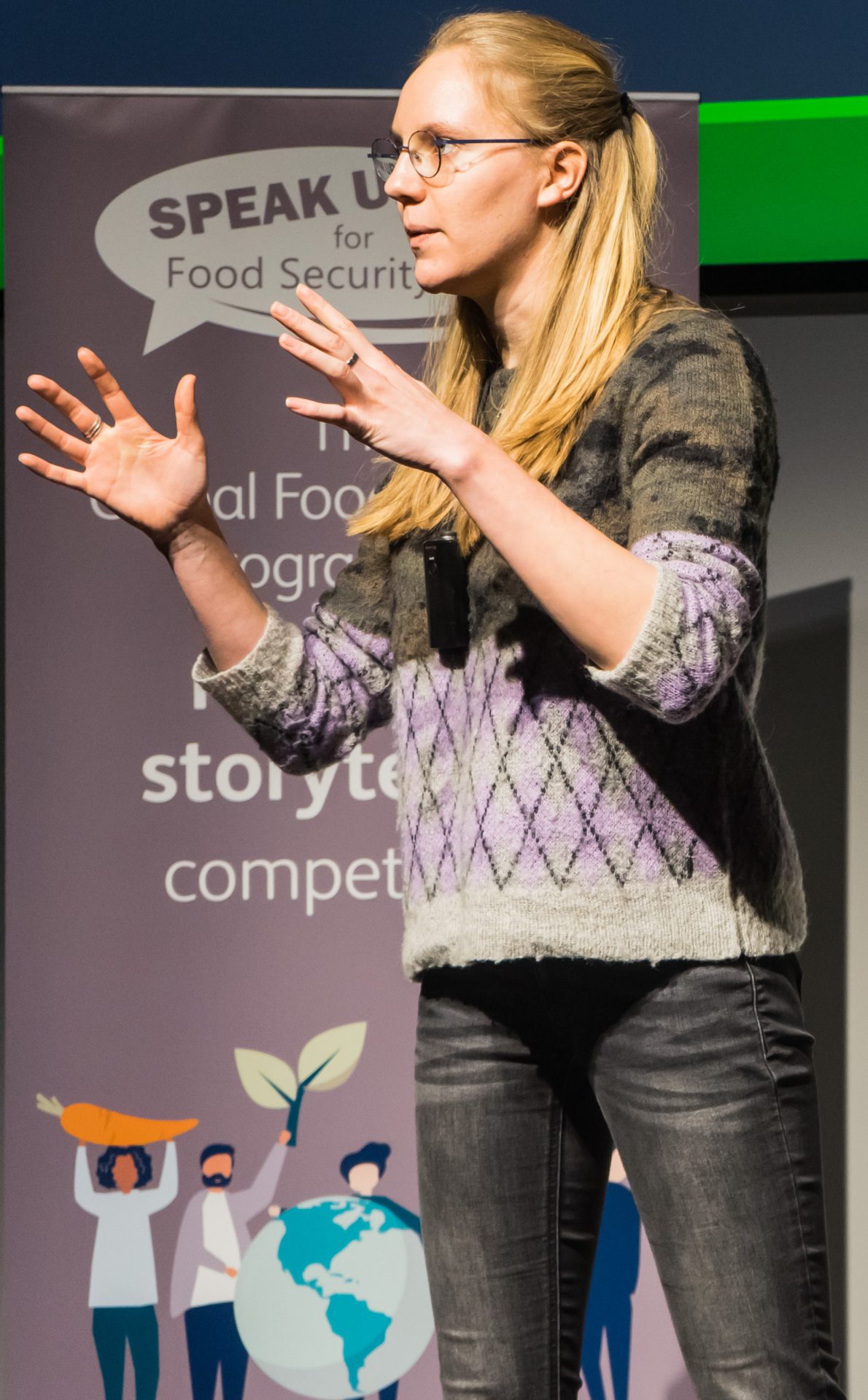 The first finalist was BBSRC-funded PhD student Emily Harrison from the University of Sheffield, who's story was inspired by her research into the use of genetic editing to engineer water-efficient crops. In her story, titled 'A message from Flora', she described a bleak future for our crops from the perspective of a plant, and asks why we didn't use gene editing to prepare our crops for it.
Second was Mirjam Hazenbosch, a BBSRC PhD student in Biology/Psychology from the University of Oxford who is researching sustainable farming methods in Papua New Guinea. Mirjam's story, 'Once upon a sweet potato', was based on the true story of how she collaborated with a farmer named Ohu to improve food security in his village.
Next up was Dr Josh Ahmed, a Research England-funded environmental scientist from the University of Hull, who is researching how we can adapt to future climate change by improving soil health. His story, titled 'SOIL! The hidden world beneath our feet', took the audience on an adventure into the soil, where they explored two very different worlds.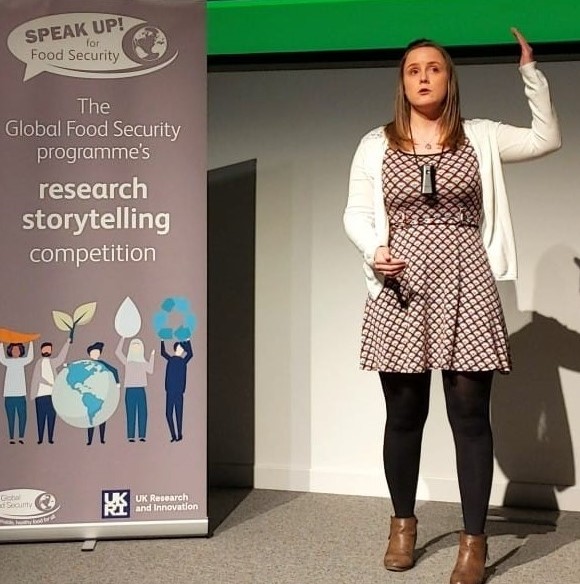 Fourth to present was Nina Goodland, a mathematics PhD student from the University of Dundee. Her EPSRC-funded research uses mathematical models to predict how fish respond to human activities, to better understand whether the rapid decline in oceanic fish populations could be partially attributed to fish changing their movements. Nina's story 'Finding Jane' followed a fish who becomes lost when attempting to reach her spawning ground.
The final finalist of the evening was Charlotte Unruh, an AHRC-funded PhD student in philosophy from the University of Southampton. Her thesis argues that we have a strong moral duty not to harm future generations with the decisions that we make today. In Charlotte's tale 'The moral of the story', a time traveller inspires three sisters to change the food system, in very different ways.
After all five food system research-inspired stories had been told, it was time for the judges to go away and deliberate. The audience members, who had each received voting slips upon entry, were asked to vote for the story they liked best. Once all the voting slips had been collected, professional storyteller Jan Blake took to the stage. Jan had the audience on tenterhooks with her dynamic telling of an ancient folktale with a food security message – the tale of Erysichthon. Thanks to Jan's captivating performance, the judges' deliberation time passed in a blink for both the audience and the finalists.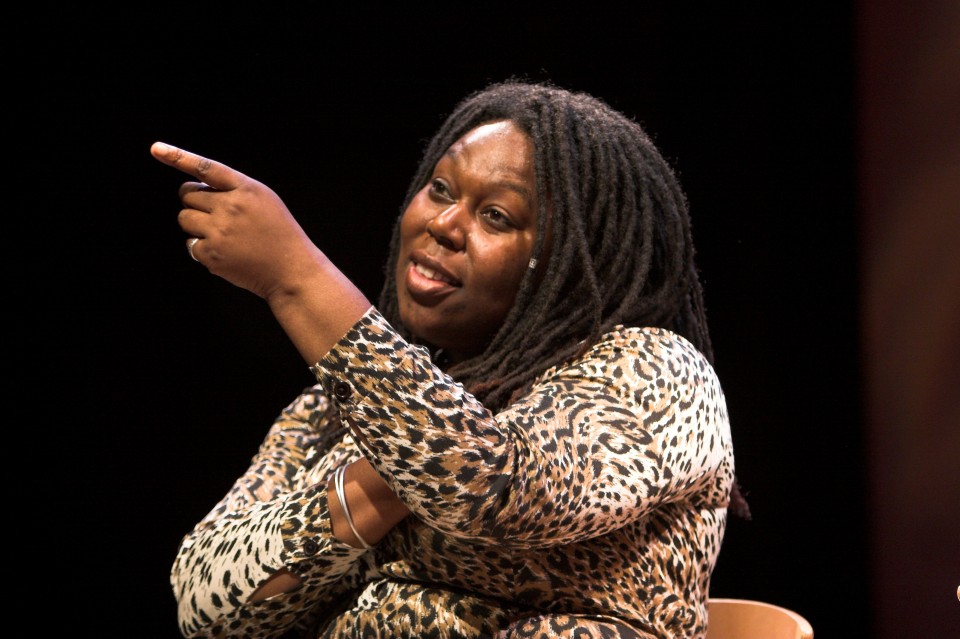 The winners were presented by Adam Rutherford, who announced that the judges and audience had picked different winners. He first revealed that the winner of the public choice award (the finalist with the most audience votes) was Nina Goodlad, for her story 'Finding Jane'. Then it was time to announce the judges choice, and overall winner of the 2020 Speak Up for Food Security research storytelling competition. Adam presented the Speak Up trophy to Mirjam Hazenbosch, for her exciting tale 'Once upon a sweet potato'. You can view her winning story here.
This was the first time that the GFS Speak Up competition final had been held at a science festival, and Cambridge Science Festival received overwhelmingly positive feedback from members of the audience. One person commented "This event was amazing. Absolutely loved it. Such an interesting way to showcase a range of topics." Another member of the audience who came with a group of high school students said "This event made science more approachable and easier to talk about".
The Global Food Security programme is already planning next year's event! If you're interested in participating in this food system storytelling competition in 2021, please sign up to our newsletter or follow us on twitter to be the first to hear when applications open.