Plant-based diets are on the rise in the UK, but is the UK food system ready to adapt to changing consumer demands in a way that promotes public health, environmental sustainability, economic growth, and social justice?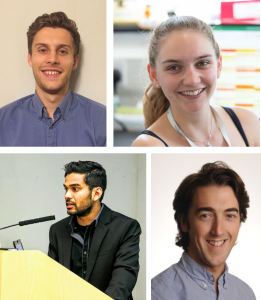 This was the question our team sought to answer following the 2019 GFS Policy lab workshop, where early career researchers were asked to identify growing UK food trends and their potential impact on the UK food system. Our team (Dr Christopher Waite, Imperial College London; Dr Sajeev Mohankumar, Rothamsted Research; Rebecca Martin, University of Cambridge; and Michael Norman, University College London) were awarded a £5,000 prize to compile a Think Piece exploring 'Is the UK ready for plant based diets?'.
One of our key motivations for this Think Piece was to address the misconceptions surrounding plant-based diets. Given the highly polarised nature of conversations around this topic, we believed there was a real need for a report that presents arguments from both sides. We wanted to highlight common goals and opportunities for realistic compromises which would hopefully serve as a starting point for future discussions- watch the animation setting out the report aims here.
For this report, it was important for us to speak to a wide range of stakeholders to gain a clear picture of the situation and make recommendations that had the best chance of being accepted by all relevant stakeholders. Whilst COVID-19 thwarted our plans for stakeholder workshops, we managed to carry out approximately 30 in-depth interviews with stakeholders ranging from farmers, academic researchers, and advocacy group leaders to healthcare professionals, entrepreneurs, and industry experts. The insight from our interviewees was crucial to the success of our project, and we are incredibly grateful to them for their time and contributions. In our report, we strive to make recommendations that are feasible and also reference grassroots success stories, which demonstrate that policy change in this area is already having positive impacts in the UK and abroad.
Our aim was not to categorise particular diets as 'good' or 'bad' but instead to assess the potential impacts this trend would have on the UK food system. Health is a key motivator for consumers transitioning to plant-based diets and as such, we wanted to assess the risks and opportunities associated with this trend for individuals and society, including the commonly voiced concerns around nutrient deficiencies and highly-processed meat alternatives. Environmental issues are also at the heart of many consumers' decisions to adopt plant-based diets. Therefore, we wanted to critically assess the impact of plant-based diets on the environment, addressing not only greenhouse gas emissions, but also land-use change, soil health, and environmental leakage (i.e. how reducing environmental pressures in one area might increase pressures elsewhere).
Thinking about UK readiness, we choose to focus specifically on whether consumers and producers were ready to adapt to this trend. Many consumers have already committed to a plant-based diet, and many more are likely to do so. Thus we wanted to assess whether consumers have the knowledge, skills, and support they need to make this change in a way that is both healthy and aligns with their values. Readiness is also a key question for agricultural producers who may need to adapt to meet the changes in consumer demand towards plant-based diets. We investigate the flexibility and resilience of UK farming to adapt to this change, exploring how it can be better supported to be beneficial for the economy and the environment.
A year of countless Skype calls and Google docs later, our Think Piece is ready. This is for everyone who considers themselves part of the UK food system because everyone who is part of the system has the power to influence changes. Now is the time to talk about this issue. 2020 was a landmark year in policy, with the passing of a post-Brexit Agriculture Bill and the unveiling of a National Food Strategy. Above all, COVID-19 forced significant changes in our cooking, eating, and shopping habits, as well as causing disruptions to our food system.
A plant-based future is not necessarily a completely meat-free future. However, the UK food system, and our wider policy climate, is going to have to adapt to support the transition if we are to protect public health, environmental sustainability, economic growth, and social justice.
We hope you enjoy it.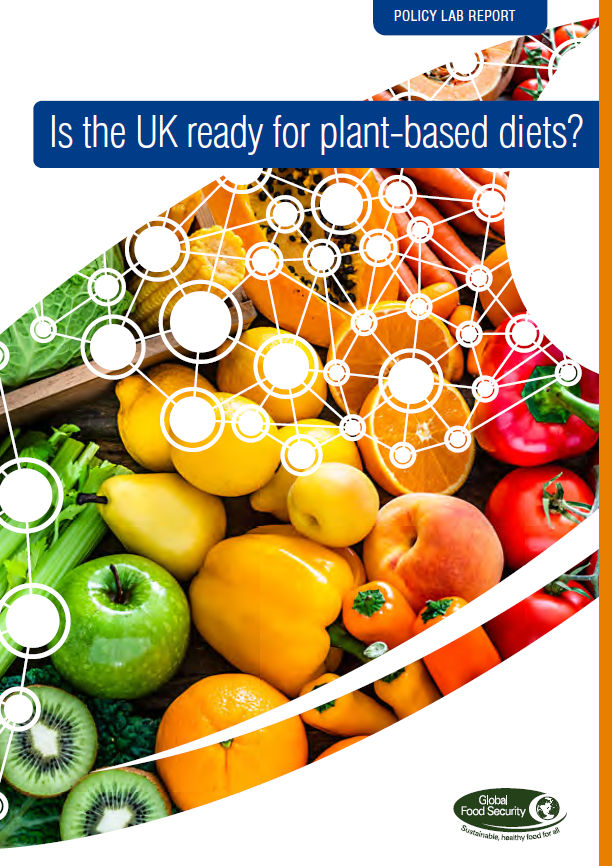 This Think Piece explores the emerging trend of plant-based diets and their impact on the UK food system. The report identifies what steps are needed to support the transition, capitalising on the benefits and minimising the risks the trend presents.
This work was funded by the Global Food Security (GFS) programme as part of its Policy Lab, in which Early Career Researchers compete to write a policy-facing report for the programme.
(You can view PDF documents by downloading a PDF reader. We recommend using Google Chrome or Mozilla Firefox web browsers.)
An animation from the winners of the 2019 Policy Lab setting out the aims of their Think Piece report 'Is the UK ready for plant-based diets?'.
About the Authors:
The authors of the blog and report were the winning team from the 2019 GFS Policy Lab on emerging food trends and their impact on the food system. During this project: